If you scheduled a Telemed visit with one of our doctors, please complete the following prior to your visit:
Read and Sign the Telemed Consent form on the Patient's Portal (see directions below).
Take the patient's (your child or yourself) weight and temperature.
Click on your doctor's link below 5 minutes prior to your visit time.
If you have been in the Telemed waiting room for more than 15minutes, please call the office at 301-774-4100.
Consent Form:
1. Log on to your Olney pediatrics portal account

2. Cick on Create Message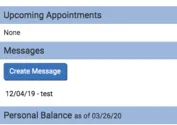 3. Choose yours (if you are the patient) or your child's name
4. Click on "Choose a subject" and choose "Telemed Consent"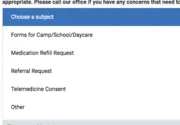 5. Click on Start Message
6. Read consent form, type your name, and click Send.
7. Click on the doctor's name below that you will be seeing for your appointment.
Choose a Doctor
Dr. Melissa Schwartz Dr. Vicky Lee Dr. Rich Tran Dr. Shira Schwartz Dr. Janice Son Dr. Sam Milbin
Let us know how we are doing. Please Take our Telemed Survey!
Tips for a Great Telemed Visit
1. Have your child with you in a well lit room that is as quiet and free of distractions as possible.
2. Log in 5 minutes prior to your scheduled visit.
3. Please have a flashlight or other light source in case we can look in your child's throat.
4. Your doctor may have you help with your child's physical exam.
5. Don't be nervous to ask questions. It might be fun for your child to show us their favorite toy or introduce their pet. Those things will help your child be more comfortable with the visit.