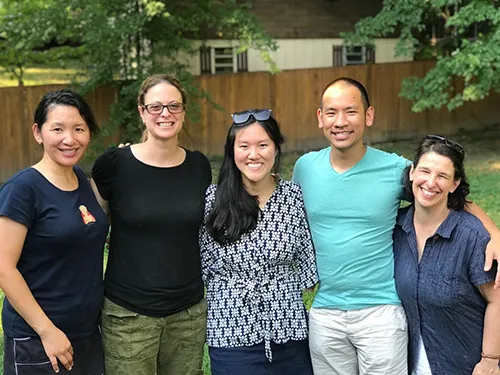 Meet our team at Olney Pediatrics! Please take a few moments to learn about our pediatricians and our friendly, nurturing staff.
At Olney Pediatrics, we consider it both a great joy and responsibility to care for children. Most of us are parents ourselves, so we strive to be understanding and available to the families we are privileged to serve. We are honored that you have chosen us as your child's primary medical provider and are confident that you will be pleased with the quality of care and service that we can provide you and your family.
A vital part of our service to children begins with our outstanding staff who work hard to manage and maintain a professional, caring and supportive environment for our patients in a timely manner. Our doctors are lifelong learners. Not only have they received advanced medical training in pediatrics, they continually pursue ongoing education to stay abreast of the latest in child health care.
Meet our new Doctor!
Dr. Leanne Miller will be joining our practice in August 2023. She has over 20 years of experience as an ABP board certified pediatrician. She graduated from Loma Linda University School of Medicine. Her residency was completed here at Children's National Medical center in DC. Her under grad degrees include an A.S. in nursing and a B.A. in music. She and her husband have three beautiful children that have enriched her practice and understanding as a pediatrician and as a mother. Her outside interests include spending time with her family, hiking, biking, singing/playing violin, entertaining, and cooking delicious, nutritious vegan food.

Dr. Melissa Schwartz
Dr. Melissa Schwartz is a graduate of University of Michigan and attended medical school at Columbia University in New York. She completed her pediatric specialty training at University of Maryland Hospital in Baltimore in 1995 and joined our practice at that time. Like her colleagues, she is a proud parent with a wealth of personal as well as professional experience.
Dr. Victoria Lee
Dr. Victoria Lee received her undergraduate degree from Cornell University and her medical degree and pediatric specialty training at New York University. She has been practicing pediatrics with us in Olney since 2001. She has a daughter in high school, stepsons at Virginia Tech and West Point, and an adorable chihuahua named Cookie!
Dr. Richard Tran
Dr. Richard Tran is a graduate of the University of Pennsylvania. After graduating from medical school at Penn State University College of Medicine, he completed his pediatric training at Penn State University Children's Hospital. He and his wife enjoy running, trying new restaurants, and keeping up with 2 young daughters.
Dr. Shira Schwartz
Dr. Shira Schwartz a native Texan, is a graduate of Boston University where she received both her Bachelors of Science and Masters of Public Health degrees. She attended medical school at the George Washington University and completed her pediatric training at Inova Fairfax Children's Hospital. She lives in Silver Spring with her husband, three daughters, and a dog.
Dr. Janice Son
Dr. Janice Son is a graduate of Johns Hopkins University and Eastern Virginia Medical School. She completed her Pediatric Residency at the University of Massachusetts. Dr. Son is board certified in General Pediatrics and is a Fellow of the American Academy of Pediatrics. When not working, she loves traveling and spending time with her husband, son, and daughter.
Our doctors have all been recognized by the National Board of Medical Examiners, are Board Certified in the specialty of General Pediatrics, and are Fellows of the American Academy of Pediatrics. Our doctors are on the medical staff of MedStar Montgomery Medical Center, where they see newborn babies. Our office has longstanding relationships with physicians at Shady Grove Hospital, Holy Cross Hospital, Children's National Medical Center, The Johns Hopkins Hospital, and MedStar Georgetown University Hospital. In addition to our extensive medical and specialty training, most of us are also parents, and apply what we have learned the hard way through our own experiences. We provide comprehensive care from premature babies to young adults.